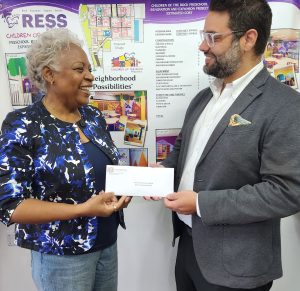 A weekly hamper distribution for 3,000 people living below the poverty line and a free pre-school for children from Morvant were among the causes supported by the ANSA McAL Foundation in August 2023.
The Living Water Community received $50,000 in Target corned beef from AMCO, an ANSA McAL company. Living Water's Rosemary Scott said the donation will be included in the Community's weekly hampers that include all the basics and some type of meat. She added that the number of people accessing the hamper program has increased considerably in recent times. "We've been helping the 'New Poor' who have not been able to reintegrate into society since Covid," said Scott.
The Rock Education Support Service (RESS) received $40,000 towards its Children of the Rock pre-school STEM lab in Morvant, which they hope to equip with microscopes and a large touchscreen for educating their 2 to 5-year-olds in Science, Technology, Engineering and Mathematics. "The whole idea is to transform the Morvant community through education," said Kate Agard of RESS. The pre-school, which graduates 45 students a year, already has a multi-purpose room for dance and the Arts.
The Foundation also donated paint from ANSA Coatings to the Trinidad Theatre Workshop, which hopes to repaint their headquarters in St Clair. The TTW has been doing theatre training and play production since 1959. They recently began a theatre training program for the children of Venezuelan immigrants.
Photos: (Top to bottom) Mrs Kate Agard of RESS, Mr Albert Laveau of the Trinidad Theatre Workshop, and Rosemary Scott of the Living Water Community receive their cheques and in-kind contributions from ANSA McAL Foundation Director, Mr Nigel Sabga.